Shooting the Ruger Alaskan in .44 Magnum
I prepared myself for the worst. Stories of wrist-breaking recoil, mile-high muzzle flips and brush fire-starting blasts from full power .44 Magnum loads seem to be all over the internet. The reality is that, while the short barreled Super Redhawk kicks hard, it's destructive recoil is greatly overexaggerated. Even though this isn't a gun/round combination you will spend a full range day on, shooting 20-40 rounds isn't a traumatic event. I didn't require any ice packs or Advil and once I got the trigger cadence down, I was able to land controlled pairs on target at 10 yards separated by less than two seconds. Make no mistake, I am not a .44 Magnum marksman by any means. But I can place shots on target at close ranges in relatively short order.
Slighter shooters lacking sufficient arm or grip strength may find heavy loads uncomfortable or even intolerance to shoot. Luckily there is a wide variety of .44 Mag ammunition to choose from.
I tried to grab some video of the Alaskan hand cannon in action. You can get a feel for the Ruger's trigger travel as well as the recoil.
Ruger Redhawk Alaskan – Wrap Up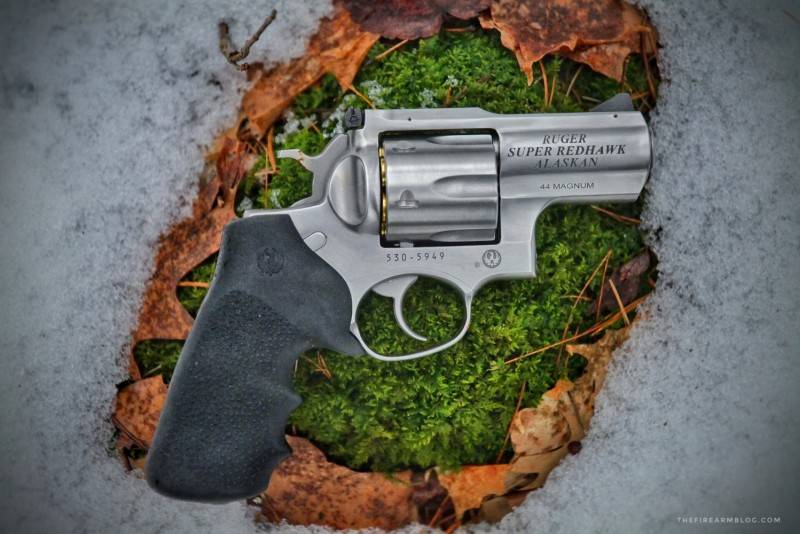 TFB Review: The .44 Magnum Ruger Super Redhawk Alaskan
The Alaskan is a very well made revolver built to withstand the heaviest .44 Magnum ammunition currently available. Like any job-specific tool, this wheelgun is designed for one mission – backcountry big game defense. The Ruger Alaskan is a large handgun, yet it is still compact enough to be worn in a belt holster under a coat.
I am undecided on whether or not I'll be purchasing this beautiful gun. While I'd love to own the Alaskan, it might be slightly depressing to know that it will sit in a safe 358 days a year. If I'm being honest, most of my beaten path adventure problems could be solved with a round that ends in millimeter. However, should that fantasy trip to Alaska ever materialize, I'd be honored to carry one of Ruger's finest revolvers into the unknown. This Super Redhawk is certainly worthy of its 49th state moniker.
I would be interested in hearing what you think – should I keep the Alaskan?
Thanks for reading TFB.
In this sequel to "Bears versus Guns", James revisits his earlier decision to carry a .44 magnum as a grizzly bear defense sidearm in Alaska. This was based, in part, on user comments; after a number of commenters asked James to consider 10mm in the last video, James did additional research on the 10mm handgun as a carry gun in Bear Country. On one hand, 10mm is only about two-thirds as powerful as .44 Magnum, but on the other, the Glock 20SF supplies 16 rounds of 10mm power compared to five or six rounds as in most .44 revolvers. James walks you through his thought process and tells you which gun he selected for camping in the wilderness.