The Technical Part
For those who want technical details, this is for you. The Gen 5 G19 and G17 are versions of the 19M and 17M GLOCKs used by the FBI. These new-to-the-civilian-market GLOCKs are made for duty use and affordability.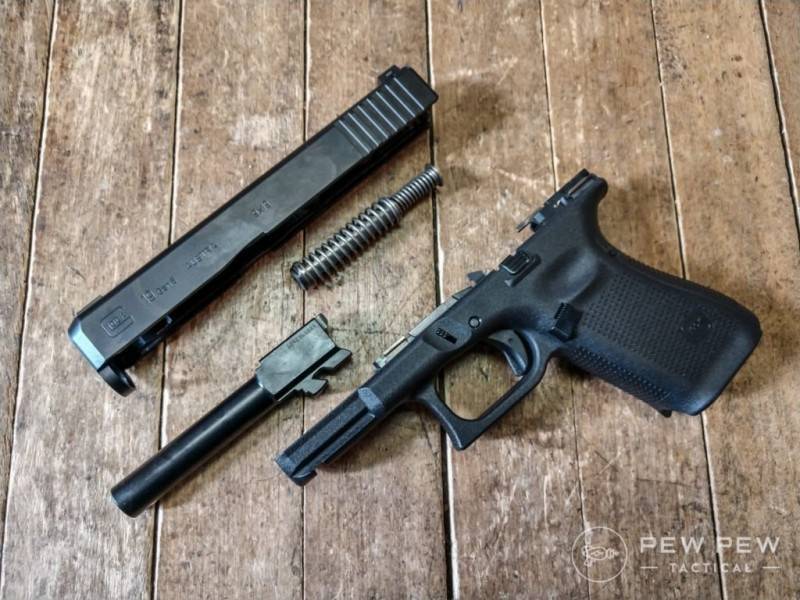 The Gen5 disassembles just as GLOCKs always have, requiring you first pull the trigger.
Holstering is meant to be easier with these Gen 5 guns thanks to a somewhat more aggressively tapered slide; choosing a holster is as easy as always, too. There is a possibility your old G19 holster will be a bit snug but most likely the Gen 5 will fit well.
Best Value (IWB)
51
at Amazon
Prices accurate at time of writing
View Details
51
at Amazon
Prices accurate at time of writing
A number of internal changes were made to the Gen 5, none of them really impact you the shooter/owner though. But it does change the landscape of aftermarket options you once had…
Basically, the only components the Gen 5 has in common with the previous four generations are the trigger connector, striker spring, striker spring sleeve, and striker spring cups.
So if you were hoping to re-use all of the awesome upgrades you have in your Gen 3-4 for your new Gen 5…think again.
Externally, there are no forward cocking serrations on the slide. Some shooters have complained about this, but here's the deal: you should be racking the slide from the rear, anyway. Speed and safety, guys. Quit putting your hand over the ejection port.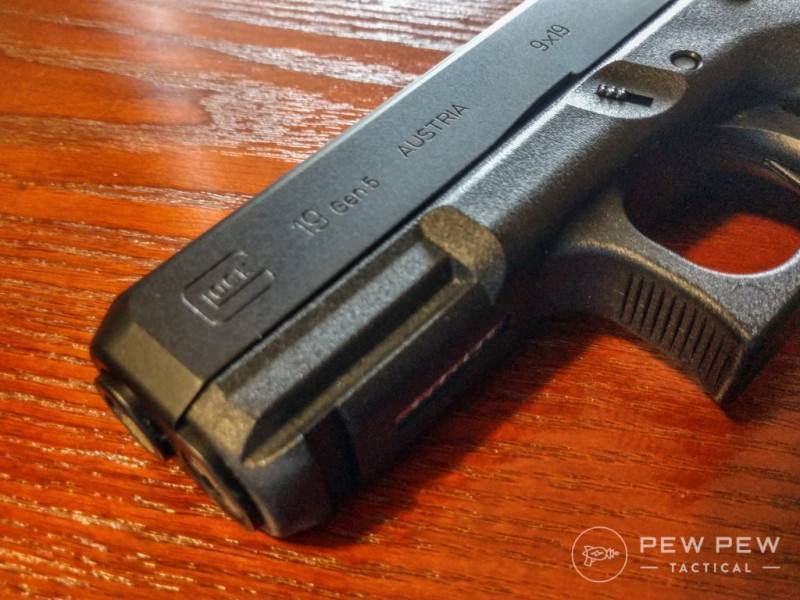 Lack of forward cocking serrations
The GLOCK Marksman barrel is a solid upgrade.
It features aggressive rifling – still polygonal – a recessed crown, and promises greater accuracy overall. Of course, accuracy is partially dependent on the trigger. The good news is the triggers seem better in the Gen 5s, too.
After running four Gen 5 G19s I can attest with confidence to the lighter triggers and the slightly crisper break. They're still the expected GLOCK factory trigger, meaning a lot of people will replace them, myself included. It's improved but not vastly.
Remember, prior-gen aftermarket triggers will not fit your Gen 5.
Bottom Line
The Glock 19 Gen 5 makes some great improvements over the last generations. It's no wonder countless police agencies and military units choose the G19 for its legendary reliability, decent ergonomics and accuracy, and ammo capacity. Plus the size lends itself for concealed carry.
Although I've liked the other gens of this model, the Gen 5 was the first to make me love it. My planned mods include taking advantage of the ambidextrous slide stop to move it out from under my strong-side thumb and replacing the trigger.
If you're in the market for a reliable, accurate carry gun chambered, this gun is well worth checking out!
Are you running a Gen 5 Glock? If you are running an older model still, maybe it's time to upgrade with some of the Best Glock Upgrades!
And some even more fun Glock articles:
Best Glock 19 Holsters
Best 9mm Ammo for Plinking & Self Defense
That History, Though…
Did you know GLOCK Ges.m.b.H didn't start out manufacturing firearms?
Gaston Glock founded the company back in 1963 but it wasn't until the 1970s he made his foray into firearms in an explosive way – by manufacturing grenade casings and machine gun belt links. (Admit it, now you want a GLOCK grenade.)
Then, in 1981, a 52-year-old Gaston designed and manufactured his first gun for the Austrian military. Sorry, G19 fans, the first GLOCK was a G17. Thus began Gen1.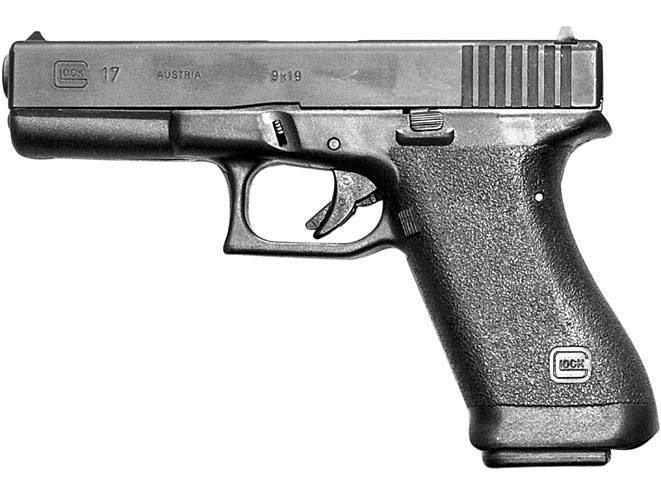 Glock 17, Gen 1. Doesn't look much different, does it?
For your sake, I'll subdue my inner gun geek and summarize the gun's history instead of taking a deep dive into the generations.  Basically, Gaston created the inaugural model to meet the military's specific needs.
The Austrian military wanted a handgun capable of being fired quickly and accurately; when it came down to it, Gaston decided in order to meet the level of speed they demanded, external safeties had to be eliminated.
He spent eighteen months designing the Gen 1 GLOCK, developing the well-known SAFE ACTION System and its trio of internal safeties: trigger, firing pin, and drop safeties. The internal safeties of the GLOCK the most-argued feature of the handgun.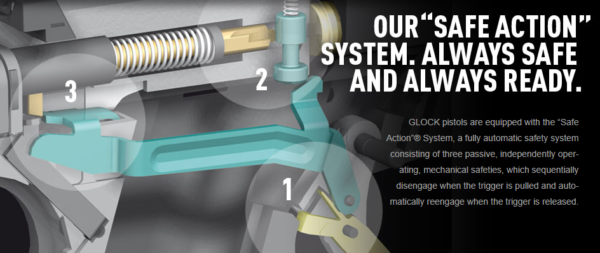 Glock Safe Action Safety System
GLOCKs are simple.
The average GLOCK contains 35 parts, way less than the approximately 58 of a 1911 or a Colt Python with 57 parts.
Fewer parts translate to fewer potential failure points and have the benefit of simplifying repairs, maintenance, and modifications. Sounds like a win to me.
There are currently five generations of GLOCKs.
Over the years changes have been made like the Gen2 texturing of the front and backstraps, Gen3's forward accessory rails and locking block pin, and Gen4's reversible magazine release, to name a few.
25
at GunMag Warehouse
Prices accurate at time of writing
View Details
25
at GunMag Warehouse
Prices accurate at time of writing
One important change made during Gen2 is often glossed over by fanboys but bears discussion: the AD heard 'round the world.
Pew Pew
Let's jump right into the awesome times I've had with the Gen 5 G19.
In July of 2018 I spent a couple weeks in Washington State attending MAG-40, Northwest Tac-Con, and Active Shooter Interdiction at the Firearms Academy of Seattle (FAS).
Mas Ayoob and Gail were in attendance for the duration, putting me in the interesting situation of shooting alongside them as students rather than instructors (it rocked, watching them do team drills together is truly inspiring, #goals).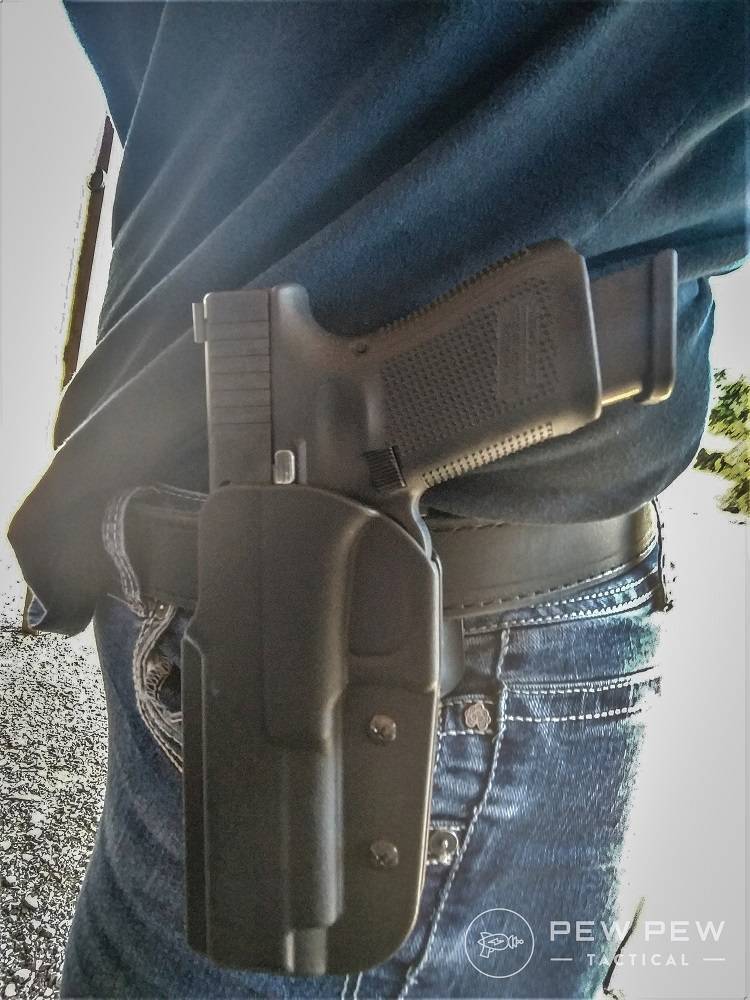 The author used Mas Ayoob's Gen5 G19 during training in July 2018; after a few days making 50-yard shots with it, she was sold.
As a writer I attend these trips using specific guns supplied by the manufacturer, and let's just say it wasn't going well.
It goes down as the most horrific trip for failures I've ever had. After watching me curse and fight with multiple review guns, Mas offered his Gen 5 G19.
Yes, I had a slight fan-girl moment.
During Active Shooter Interdiction I ran the GLOCK out to 50 yards on steel doing shoot-and-move drills and also did team drills with my friend Paul Lathrop, the host of the Polite Society Podcast.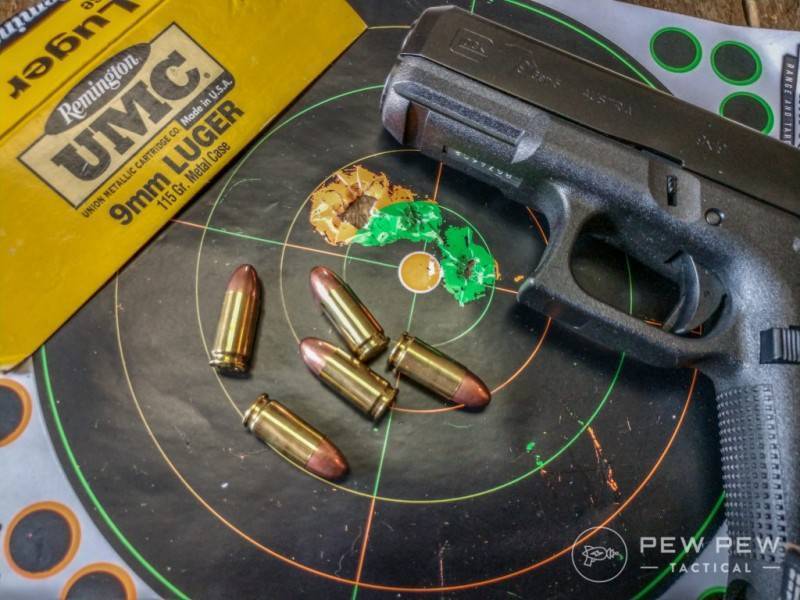 This is an accurate, reliable gun (pictured: five shots from ten yards firing offhand using Remington 9mm 115 grain UMC).
I experienced one FTF with Winchester white box ammunition but the gun otherwise ran flawlessly (I'd borrowed a handful of the ammo and immediately unloaded it following the failure). I'd shot the model before, but it was at this class the gun won me over.
Working for days on end from the holster on moving targets, in the dark, and on longer-range steel plates – longer for a 9mm – was enough to show me this gun runs and hits like a champ.
At home, I put the gun through a variety of drills. Whether I was drawing from the holster on a timer or shooting slow and steady playing card drills the GLOCK performed with consistent accuracy.
Just like with any gun the groups are tighter with some brands of ammo than with others.
Best 9mm Range Ammo
10.49
at Brownells
Prices accurate at time of writing
View Details
10.49
at Brownells
Prices accurate at time of writing
with some brands of ammo than with others.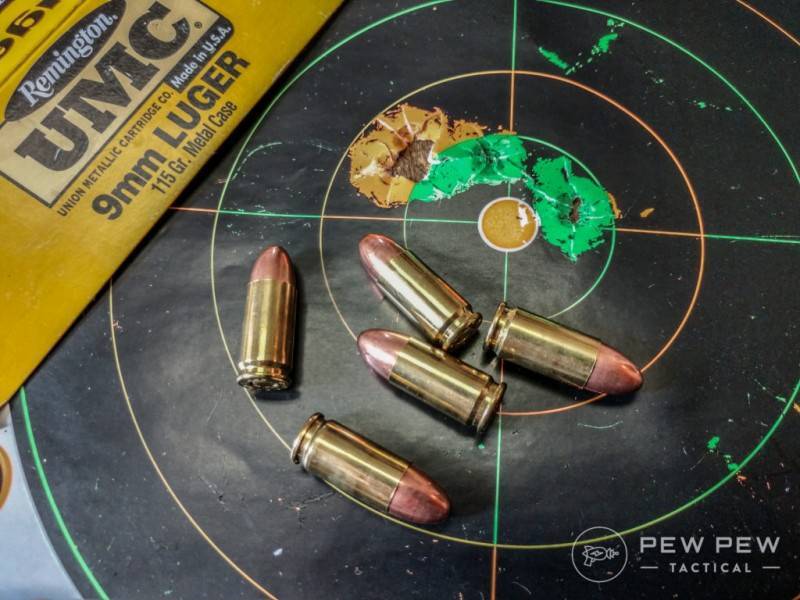 The New Frontier
As soon as the Gen5 G19 was available I got my hands on one.
It wasn't love at first grip, exactly, but it was mild infatuation.
The gun fits my hands more comfortably than previous generations thanks to the removal of those pesky finger grooves. It wasn't just that, though; the dimensions of the Gen5 G19 may not technically be different but it has an entirely different feel in your hands than the earlier generations.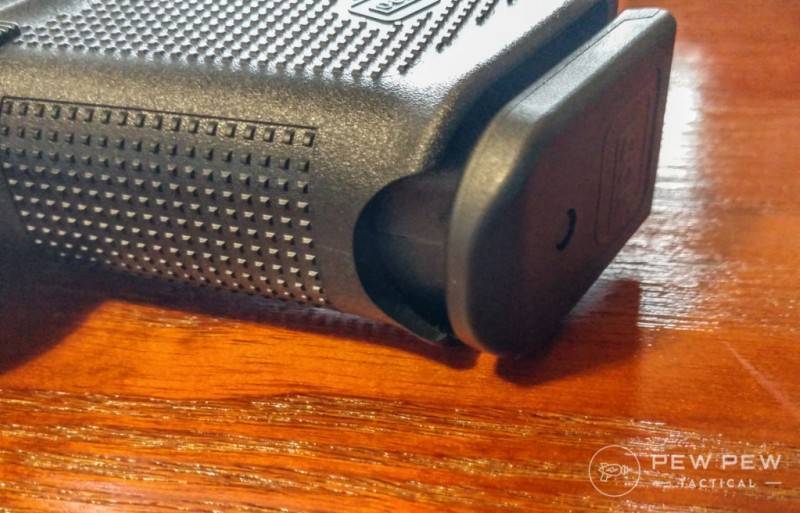 A cutout in the magwell of the Gen5 G19 falls right under my pinky finger while shooting. PLUS no finger groves!
Trigger reach remains at 2.76-inches but the changes to the grip itself made it fit my long fingers better. The gun is fractionally heavier than the other gens, too. Those might sound like inconsequential changes but sometimes it's the seemingly minute details that make a gun rock.
By The Numbers
Reliability 5/5
Spanning all four Gen 5 G19s I've run, I've put over 3500 rounds through this model (the number continues to grow since it's the gun currently at my side). The only failures have been ammo-related.
I prefer to put a minimum of 500 rounds through any handgun I'm considering carrying and the Gen 5 G19 soared through those first 500 rounds beautifully. This is a reliable gun (of course it is, it's a GLOCK).
Ergonomics 5/5
This is a slightly subjective evaluation. The gun fits my hands as if it was made for me, but it might not fit you the same way. The removal of the finger grooves is a huge bonus, in my opinion, and the alterations to this generation somehow made it more natural for me to draw and fire.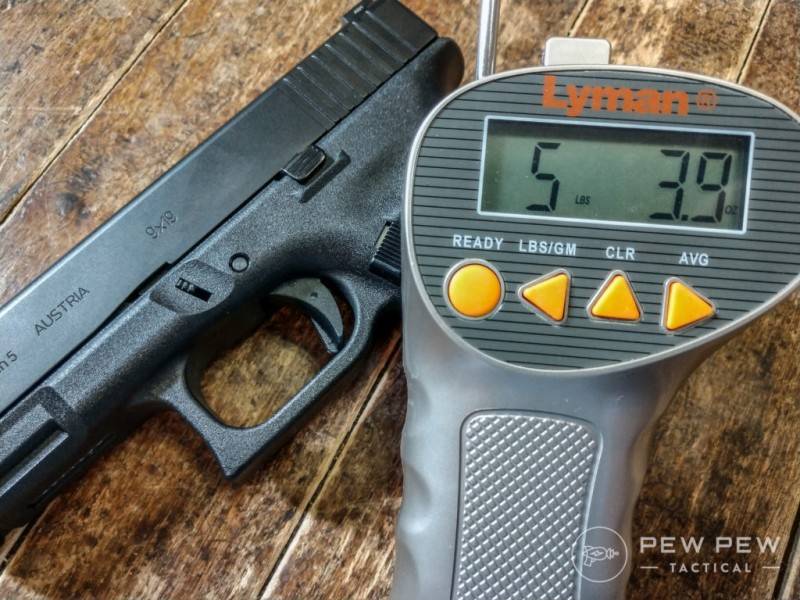 Trigger pull weight averaged 5 pounds, 2.5 ounces out of five pulls with 5 pounds, 3.9 ounces being the heaviest
I can work the controls without shifting my grip and fire it quite precisely one-handed, strong or support side. GLOCK included a cut-out at the front of the mag well which does annoy me because it's directly under my pinky finger. It's a minor thing but worth mentioning.
Accuracy 4/5
The Gen 5 G19 loses a point here because it dislikes some ammo. For example, it consistently shot ragged one-hole groups at ten yards, shooting offhand, when loaded with Remington 9mm 115 grain UMC. But when I switched to Federal Syntech 9mm 115 grain RN the groups expanded.
This is not unique to the model; the majority of firearms prefer one ammo over another. It is less a complaint and more an observation.
Customization 3/5
Here we fall to a "3" because the Gen 5 aftermarket parts are not yet available at the same incredible number of prior generation's mods. Give it time. I'm sure they will be.
That said, normal accessories like lights, lasers, and sights are compatible for the most part – especially lights. The Streamlight TLR-7 is a perfect companion for any defensive-oriented pistol.
102
at Amazon
Prices accurate at time of writing
View Details
102
at Amazon
Prices accurate at time of writing
Value 4/5
GLOCKs are workhorse pistols. They aren't high-priced BBQ guns and I don't expect a factory gun to perform to the same level as a custom gun. With AmeriGlo Night Sights – an upgrade I always want on my self-defense guns – it has an MSRP of $699.99.
Most Dependable
629
at Brownells
Prices accurate at time of writing
View Details
629
at Brownells
Prices accurate at time of writing
This is a significant price bump above the current going rates of $499.99 for a new Gen 4 model. Is it worth it? I think so, but it does make some sense if you want to wait for the prices to drop a bit more.
Overall 4/5
The Bestselling G19
My first self-defense handgun was a Gen3 G27, a pistol that saved my life one day and earned a permanent place in my safe. This means I do have a little bias in favor of polymer handguns (as long as they're reliable and accurate).
And although I don't carry my old G27 much anymore I refuse to give it up. Say what you want, there's nothing wrong with .40 Smith & Wesson. But I digress.
The most popular model of GLOCK currently on the market is, of course, the G19.
Most Dependable
629
at Brownells
Prices accurate at time of writing
View Details
629
at Brownells
Prices accurate at time of writing
Yes, the G17 is a common duty gun for law enforcement and alphabet agencies around the globe, but the G19 is where it's at (or so the sales say). In fact, when GLOCK launched the G19X they sold more than 100,000 of them in under six months–just one reason why they're on our best Glocks list!
There aren't just hundreds of thousands of these plastic fantastic pistols out there, there are millions. More than ten million. (If you don't own one, go ahead and give in to peer pressure. Get a GLOCK. Get three.)
Here's the kicker. The G19 is not my favorite model. I own a few and I've built Polymer80 versions but my heart is with other models.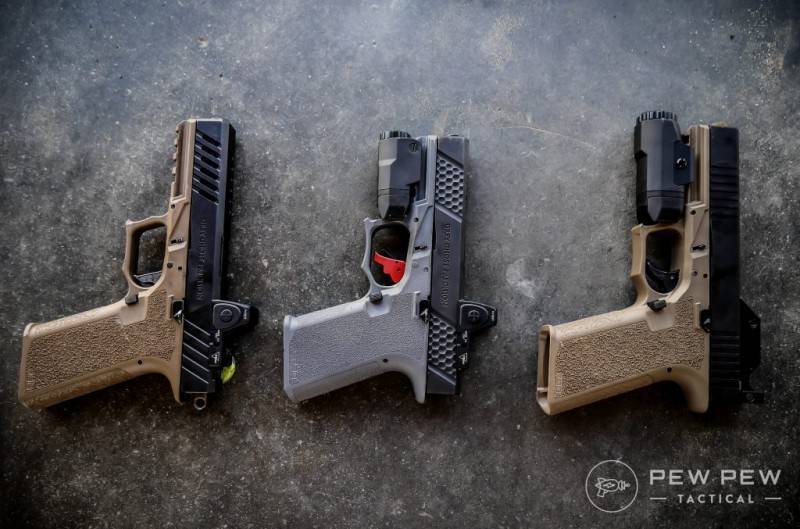 Various Polymer 80 Glocks
Due in part to my reluctance to commit to this particular model I decided to spend more time running G19s and see if it changed my mind.
After years spent reviewing guns for a living I've turned into a bit of a handgun snob; for better or worse I have a tendency to make snap decisions regarding whether or not I want a gun for my personal use.
Changing my mind tends to be an insurmountable task, but here we are.
The AD Heard 'Round the World
American Handgunner gets credit for the phrase describing what happened to a Suffolk County, New York LEO on January 2, 1992.
He was kitting up for night shift and chambered a round prior to holstering his weapon. Well, that round that ended up embedded in the wall. He immediately reported the accidental discharge to his range officer who assumed it was all the LEO's fault.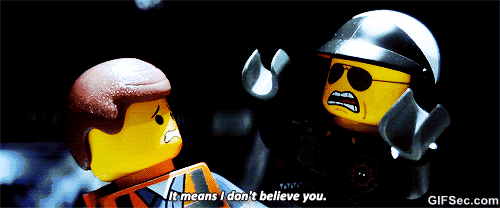 In defense of the RO, most "accidental" discharges are human error.
The officer persisted, though, and insisted the gun be examined before his shift. When the LEO arrived at the range the R0 was so convinced it was negligence he didn't bother taking the GLOCK inside. Instead, he walked outside, intending to school the LEO on trigger safety.
As part of his demonstration, he chambered a round while keeping his trigger finger high and clear of the gun's trigger.
The gun fired.
The men then moved to the range itself where the gun repeated the sequence. Finally, it AD'ed a three-round burst. They FedEx'ed the G19 to Georgia. GLOCK never officially took responsibility for AD but did end up announcing a "voluntary product upgrade."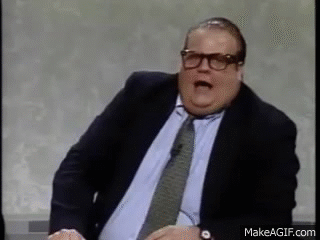 "Voluntary Product Upgrade"
The upgrade involved replacing the firing pin, firing pin safety, extractor, spring-loaded bearing, and upper trigger bar. Suffice to say there were significant tooling changes made.
Today's GLOCKs are renowned for being both reliable and affordable. They've become the workhorse of the gun world, the guns some see as the Butterface of the firearms world (hot body, ugly face). Then there are those – myself included – who are fond of the blocky black pistol's appearance.
Модель пистолета (VFC) G17 GEN5 (GBB) (Black) — Страйкбольный магазин Airsoft Store
Нет в наличии
Артикул: VFC-UM3T-G17G5-BK01
Сообщить о поступлении товара
Товар отсутствует на складе. Сроки поставки уточняйте у менеджеров.
| | |
| --- | --- |
| Тип пистолета: | Gas Blow Back |
| Материал корпуса: | Пластик, металл |
| Скорость вылета шара: | 90-100 м/с |
| Вес без коробки: | 640 гр. |
| Общая длина: | 200 мм. |
| Магазин в комплекте: | Механический (на 22 шара) |
| Страна-производитель: | Тайвань |
Важно! Все комплектующие/дополнения (указаны в таблице, графа «Комплектация/дополнения»), идущие вместе с моделью страйкбольного оружия, поставляются бесплатно (в качестве подарка). При оформлении заказа, при желании, Вы можете выбрать, какие дополнения Вам нужны
При заказе комплектующие/дополнения, не отмеченные «галочками» в окне выбора дополнений, будут удалены из коробки!
Дульная энергия – менее 3 Дж
Страна-производитель: Тайвань
Есть вопрос по товару? – Напишите нам, мы онлайн!
Есть вопрос по товару? – Оставьте нам сообщение!
Фактический товар может отличаться от представленного на фотографиях или в видеообзоре (оттенок ткани, конструкция некоторых элементов и т.д.). Производители могут без предупреждения вносить изменения (в т.ч. улучшения) в конструкцию изделий. При заказе через сайт просим предварительно уточнять у менеджеров все существенные для Вас параметры изделия.
Заказы на товары принимаются только через сайт. Для размещения заказа сложите товары в корзину и пройдите несложную процедуру оформления (регистрация не обязательна).
Отзывы:
The Gen5 G19
When GLOCK launched the Gen5 G19 it was the removal of the finger grooves that thrilled me right off.
Let's face it, it's rare to have your fingers precisely fit grooves on mass-produced guns.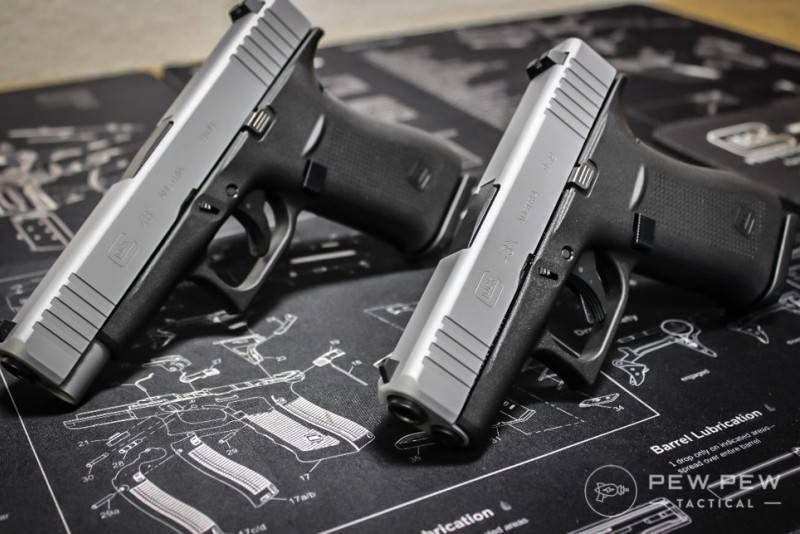 Glock also left finger grooves off of the new G43X and G48 – hopefully, they are gone for good!
There were about twenty changes made to the gun including non-polygonal rifled, match-grade barrel, nDLC finish, ambidextrous slide lock levers, and a ramped striker safety plunger.
They replaced the leaf spring of the slide lock lever with a coil spring, too.
A multitude of changes, but do they really matter?
I wanted to know.