Range Trips
Shooting the PTR 32 is an experience of its own. The rifle reminds me of shooting an older Colt SP1 because every shot the shooter can feel the bolt cycling. The HK 91 was originally designed for 7.62×51 so the lighter recoiling round of the PTR 32 is extremely soft shooting. There's little to no recoil with the rifle and the blowback design gives it an incredibly unique feeling at the range. The rifle isn't as streamlined compared to an AR15 so it's a totally different experience to run hard in drills. The PTR 32 is simplistic as design and that's part of the challenge to run quickly in a rifle course.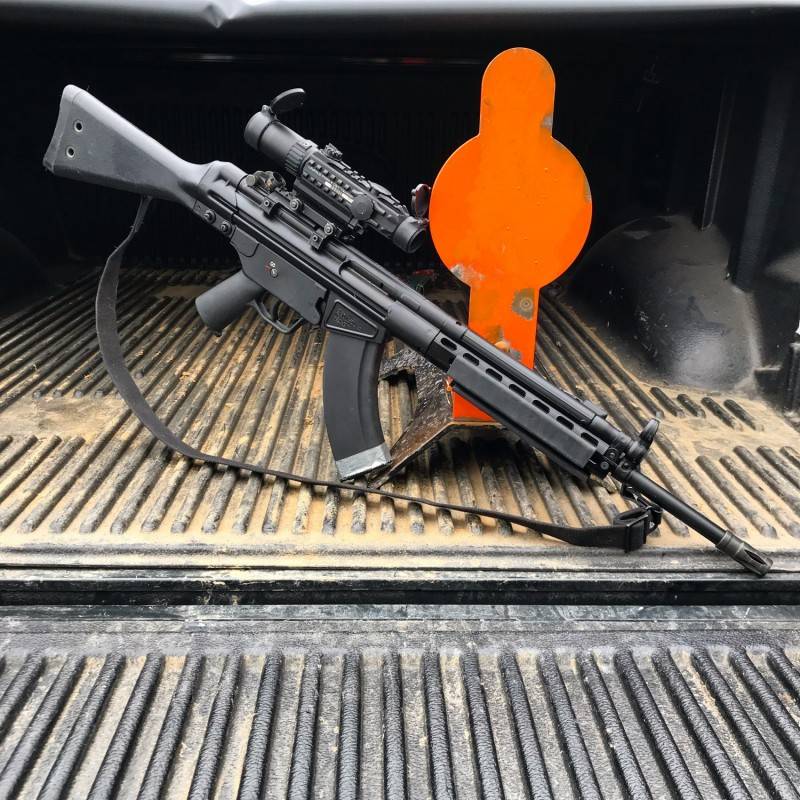 One of the best parts of the rifle is the front charging handle. It operates just like an MP5 every time you load the rifle you have the option of doing that 80s action superstar slap on the charging handle to have the first round go into battery. When testing accuracy on the PTR 32, I shot a couple boxes of brass cased American Eagle 124gr 7.62×39 and was average right around 2 MOA at 100 yards. When switching to steel-cased ammunition I went with Wolf Ammunition 123gr rounds and averaged 2.5 MOA at 100 yards.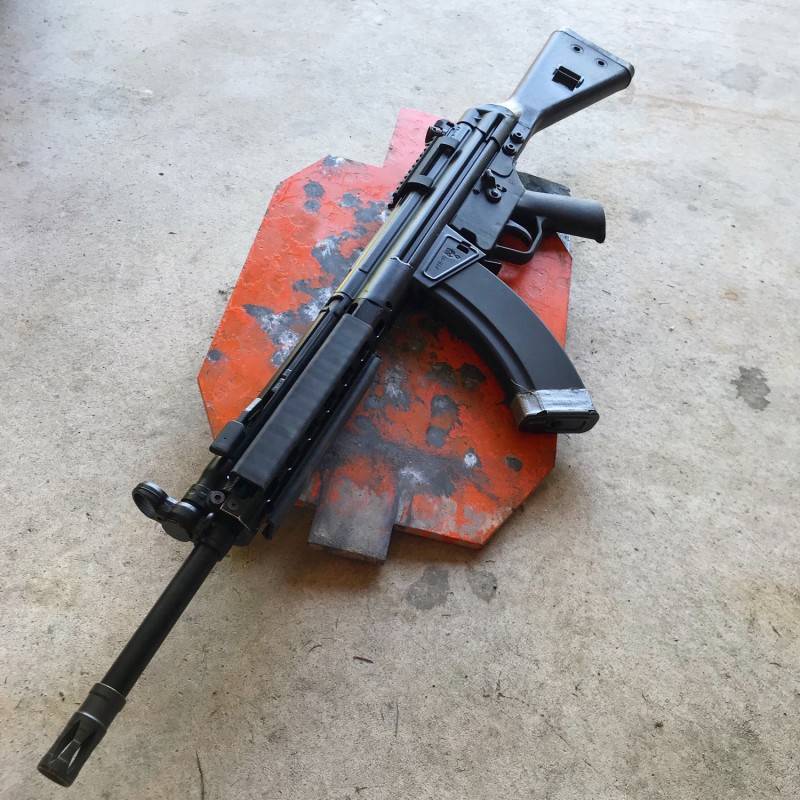 Specs
The PTR 32 is basically an HK 91 clone chambered in 7.62×39 with a roller delayed blowback system. The gun has a 16.1 inch barrel and weighs just over 9 lbs empty. The PTR 32 KF is not a light gun and has a typical HK rifle trigger that's fairly heavy with a 9.5-pound trigger. The rifle came with a metal handguard that accepts Picatinny rail attachments. My PTR 32 is a 1st generation model and now they are generation 2. PTR tweaked some internal with the 2nd generation and fixed the 1st generation to take certain magazines.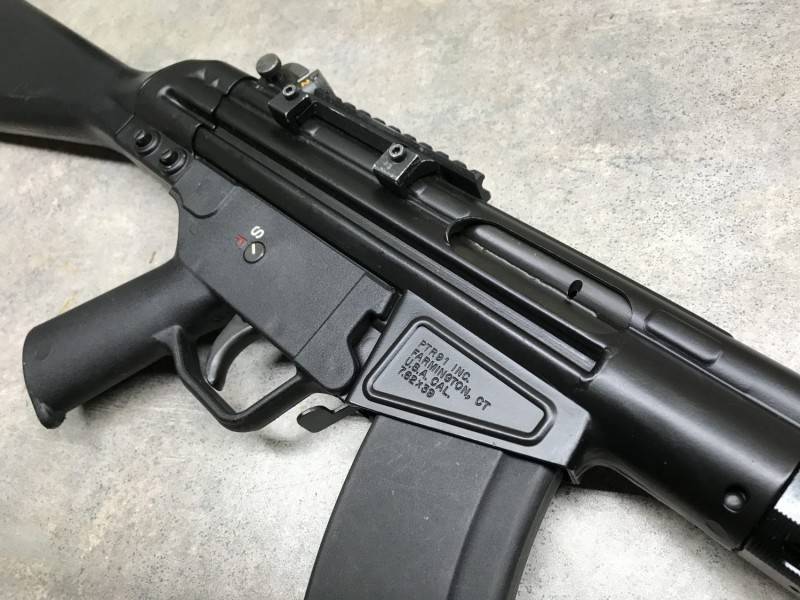 I have run polymer magazines along with the Magpul PMAGs in my gun with good luck. Steel magazines often have feeding issues with my gun but the polymer magazines work well with the 1st generation guns. The rifle's construction seems to be very high quality with clean welds on the gun with an even finish. The rifle came standard with an A2 style flash hider and it does a great job of keeping flash to a minimum.  The paddle-style magazine release well known on the AK series of rifles and HK 91 is present on the PTR 32 as well. The MSRP on this rifle is currently $1336.00 for the standard model.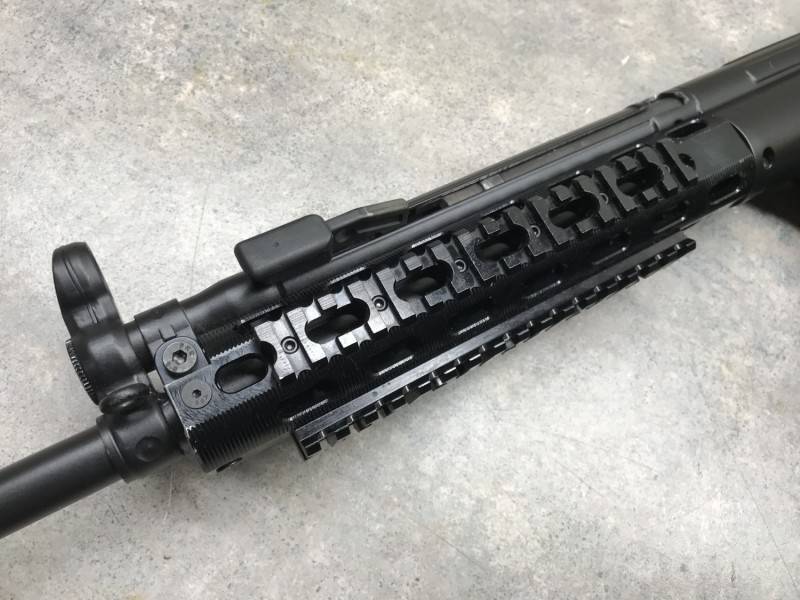 Shooting and Sights
The PTR 32 may look a bit odd with an AK style magazine sticking out of it, but when shooting drills at closer distances, the rifle is still fairly easy to transition between targets and reload under stress. I decided to run the gun slick with just irons for the last six months or so with good results so far. An accessory rail did come with my version of the rifle so it was definitely nice to have the option to either mount optics or run it just irons. The iron sights are adjustable for height and elevation and the rear sight has four different settings based on distance with a traditional HK-style front sight.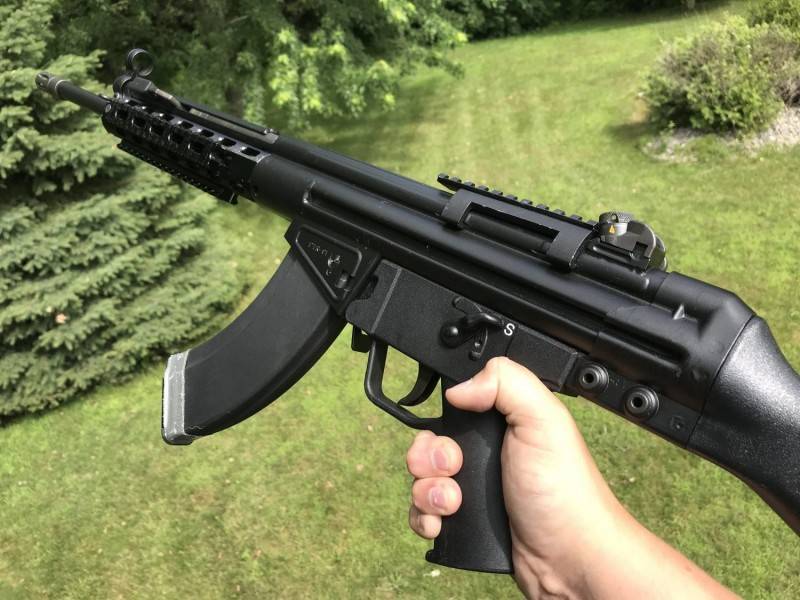 Overall Thoughts
In a market filled to the brim with AR-style rifles, it's really refreshing to shoot and try out a different style rifle occasionally. The PTR 32 is a rifle I just enjoy taking out to the range and shooting to spice up my range sessions. I feel like we get so focused on the AR15 that we forget there are a ton of different options on the market today. The gun may be a tad odd looking and unconventional but those are the characteristics that make me absolutely love this rifle.
It may be heavy and cumbersome at times, but it makes me smile every time I pull the trigger. This is one of those rare examples where shooting this rifle makes it feel like a special occasion. If you've been debating on picking the PTR 32 up, I would say absolutely do it. Let me know what you guys think about crazy mashup rifles like this PTR 32 in the comments below. If you have a question about the rifle or shooting, in general, don't be afraid to send me a message on my Instagram page @fridgeoperator. Stay safe out there.
Learn more about how this works
The Break-In Period
So when I first picked up the PTR 32, I did have a dozen malfunctions in the first 500 rounds of the rifle. I thought it might have been magazines but after trying different magazines it came down to cycling issues because of tolerances. This rifle had very tight tolerances and needed a good cleaning and some rounds through it before things began to run correctly.
Once I put about 550 rounds through the gun, it became 100% reliable and will feed any type of ammunition I put into it. When I was having some feeding issues I ended up calling PTR and they said it was most likely the rifle breaking in as well. The rifle has been 100% reliable since then and from what I've heard from owners of the 2nd generation, it is no longer an issue and the guns are 100% reliable out of the box.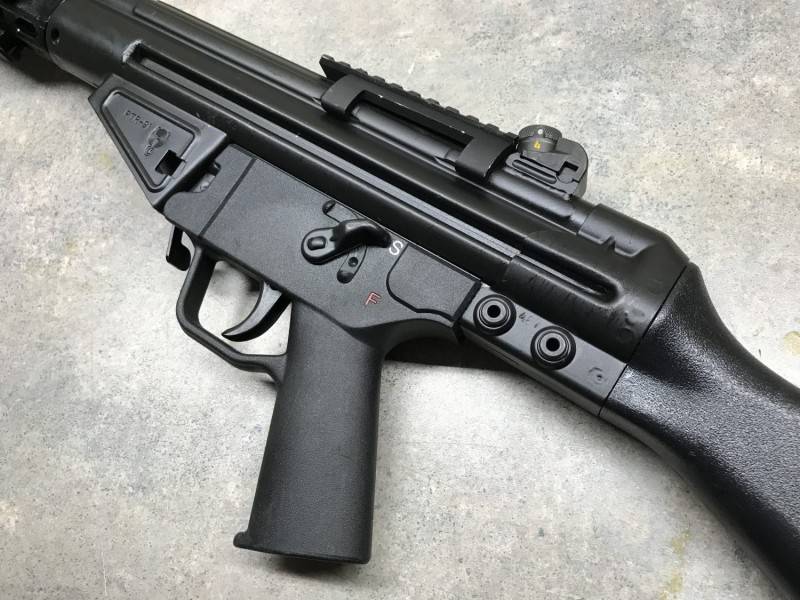 History
The weapon is based on the Heckler & Koch G3 and HK91 design, which itself is a variant of the Spanish-made CETME rifle. The United States Federal Assault Weapons Ban enacted in 1994, by President Bill Clinton, prohibited certain cosmetic features of the HK91, which meant that the HK91 and its variants could no longer be manufactured and sold to the US civilian market in their original configuration. Furthermore, German-made HK91s were specifically prohibited from importation under an import ban enacted by President George H. W. Bush in 1989. Subsequently, Heckler & Koch ceased manufacture of the semi-automatic G3-variant, the HK91. The PTR-91 was developed to fill perceived void in supply as an American variant of the original G3 battle rifle.
JLD Enterprises (JLD) purchased prints and tooling from Fábrica de Braço de Prata, an H&K-licensed, military factory based in Portugal. JLD then began manufacturing ban-compliant PTR-91 rifles in 2002. These ban-compliant models did not have a threaded barrel, bayonet lugs, adjustable stocks, or "high-capacity" magazines. Very early models were produced directly from the Portuguese prints and were nearly identical to the HK91 with the exception of modifications for compliance with the Assault Weapons Ban of 1994. Once the ban expired in 2004, JLD began offering a wider range of PTR-91 models, many of which featured more of the original military features of the storied G3. JLD also began investing in research and development, and debuted new improvements and modifications to the original HK91 design. Initially, JLD-produced rifles relied heavily on imported military surplus components to complete their G3-variant. Most parts between HK-91 and PTR-91 guns were and continue to be interchangeable.
In 2005, the major assets of JLD Enterprises were purchased by the newly formed PTR-91 Inc. Mr. Jose Diaz, JLD's founder and owner, stayed on with the new company as a major partner. Mr. Diaz left the company in late 2010. Subsequently, the remaining partners and new management changed the strategic direction of the company. PTR moved from a business model of surplus part importation and assembly to that of a true self-reliant manufacturer featuring in-house production. The company added significant machining and fabrication capabilities in 2011 and 2012 to accomplish this change.
Currently, PTR is capable of producing every machined part on its rifles at its plant, and sources other items, such as the plastic accessories and furniture, locally in the United States on tooling that it owns. As a result, current PTR rifles are made and assembled in the United States. In 2014, PTR relocated to Aynor, South Carolina, and was formally incorporated as PTR Industries, Inc. in South Carolina.
Variants
The best-known and oldest version of the PTR-91 rifle is the PTR-91F. This rifle, similar to the original HK91, features an 18-inch heavy target barrel and fixed plastic stock. PTR also produces higher end versions of the rifle, such as the PTR-MSG91, a mid-range rifle featuring an 18-inch fluted heavy target barrel, along with enhancements for precision target shooting such as a bipod, rail system, and adjustable stock. PTR also produced in limited quantities a "PTR Super Sniper" version, which featured a 20-inch fully fluted, free-floating barrel.
In addition, PTR also produces several models of carbine that feature a 16-inch heavy target barrel. These are available with standard hardware as found on the PTR-91F, and include configurations of different stocks, rails, and barrels. A popular model is the PTR-91 KPF, which has an A3-type fully collapsible paratrooper stock.
In 2010, the company released a new line of products chambered in 7.62×39mm known as the PTR-32 series. The PTR-32s are made exclusively with 16-inch barrels, and are available in the same configurations as the PTR-91 carbines.
Calendar year 2011 saw the launch of another new product, the "PTR-GI", which is a throwback to the classic Cold War military styling of the original H&K G3. Also around 2011, PTR-91s began to be available with a welded scope rail, and are identifiable by an "R" in the model name.
In 2015, PTR-91 rifles began to include paddle-magazine release for faster reloading.